Flash control
Description

Flash swf (Shock Wave Flash) video files are seen everyday when you surf the Internet. Most of the video adverts you see and videos playing on websites such as the BBC site are Flash videos. However, Flash is used to create banners and moving text and even clocks and countdown timers on websites.
IMPORTANT - LIMITATIONS OF THIS CONTROL


You will often see a menu under Flash videos on the Internet that allow you to control the playing of flash movies. This menu is saved into the swf file itself and unfortunately Repeat Signage cannot stop this being displayed if it is part of the swf file. Also, the looping and play on load features of a flash video are also contained within the swf files. Repeat Signage sends Flash commands to the Flash player to turn on looping and set the video playing, but some swf files have settings that cannot be overridden. We have compiled a list of websites and other resources at the end of this page that allow you to create Flash files that will work perfectly with Repeat Signage.
Repeat Signage also does not have control of the audio in Flash movies. If you scroll a video with audio, then you may get repeated audio. Also, there is no mute facility.
Single Flash files
On the designer screen menu, click on 'Insert' then 'Insert Flash'. This will allow you to choose an Flash file. You can then position and size your Flash control as required. Double click the Flash control to view the properties.
Playlists of Flash files

You can create a play list of Flash files so that many Flash files can be displayed, one after the other:
1. On the designer screen menu, click on 'Insert' then 'Insert Flash video'. This will allow you to choose a file. This defaults to 'On local or network drive'.
2. Click on the browse button and choose a Flash file and then click on 'Open' to return to the previous screen.
3. Now click on OK to insert the new control onto the designer. You can then position and size your control as required.
4. Double click the control to view the control's properties.
5. Put a tick in the 'Use play list instead' tick box. This will take you to the Playlist tab. Your first Flash appears in the grid for you.
6. Use the 'Add' button to add other files to the list.
NOTE - You could also use 'Add blank' to add blank items which can be used to give a pause between playing your flash files. For example, you could insert a single flash file and set it to display for 2 seconds. Then insert a blank item again for 2 seconds. This would then give the effect of flashing the Flash file on and off the screen.

7. When you have added your play list files, then click on the OK to close the properties screen and return to the designer. Your play list will start playing immediately. Then length of time each item will display for will depend on how long you specified for each play list item.
Scrolling Flash files

1. Follow the instructions for 'Playlist of Flash files' above.
2. Open the picture control's properties by double clicking it and then selecting the 'Scrolling tab'.
3. Change the 'Scroll direction' combo box to an entry other than NONE, for example RIGHT TO LEFT. Click on OK to see it scrolling.
For more scrolling options, on the properties 'Scrolling tab', press the F1 key to see the various options. Also see
Single, playlist, scrolling and advanced scrolling
for visual examples of what is currently possible.
Scheduling the playing of Flash files (Standard and above editions only)


The information on creating a play list above shows you how to create a play list that just loops files. On the play list tab, there is a 'Schedule type' drop down list. You can change this from 'PLAYLIST' to 'HOURLY', 'DAILY', or 'WEEKLY'. The difference between this and the 'PLAYLIST' option is that when you add items you have to specify 'From' and 'To' time values.
For example, an HOURLY scheduler can be used to play a file at the start of every hour for 1 minute (0 minutes 0 seconds to 0 minutes 59 seconds). You have to put in files to cover the entire hour. If you don't want anything playing for the rest of the hour, then insert a blank item that covers from 1 minute 0 seconds to 59 minutes 59 seconds. At the end of an hour, the entire hourly schedule will loop again. When you play a presentation, it displays items based on the current time or day.
When you add a blank item, you can decide whether to make the blank item display the background of the control (which you can specify a colour or picture for) or whether to make the entire control invisible. When adding or editing a blank item, go to the 'Blank item' tab and either tick or un-tick the 'Entire control is visible' box. This is useful for scheduling when you want a control invisible.
The DAILY schedule type allows you to specify files and blank items to cover the entire day. At the end of the day, the schedule will start again. WEEKLY allows you to schedule what happens on each day of the week (at any time), and then restarts at the beginning of the next week. Repeat Signage uses Monday as the first day of the business week. Another thing to note is that every control that supports scheduling runs independently of all others, so you can have lots of different controls all doing different things.
Tools have been added to Repeat Signage to help you test scheduling. On the designer screen menu, you can click on 'View' then 'View program time for schedule testing'. Clicking on this puts the time on the bottom right of the designer screen menu. This is the clock that Repeat Signage uses with controls. You can change this time using 'View' then 'Change program time for schedule testing'. This allows you to change either the time or date, so that you can see what will be displayed at any point. For example, you may have an 'offer of the day' for each day of the week, made by displaying pictures in a picture control. Changing the program date to another day will allow you to test that the correct picture file, with that day's offer on, is being displayed.
Playing Flash files from RepeatServer.com or another website

You can create a free
RepeatServer.com
account and use this to upload Flash files to your online account. When you insert a Flash file in your presentation you can choose to collect it from a website and point it at Flash files that you have uploaded. You then get your presentation to monitor the online version for changes. When it detects that you have uploaded a new version of the, then this is automatically downloaded and played whilst your presentation is running. You can do this in the following way:
1. Create a free
RepeatServer.com
if you haven't already done this. This can be done by visiting
www.RepeatServer.com
in your web browser or via the 'RepeatServer.com' tab on the main Repeat Signage screen.
2. Log onto your
RepeatServer.com
account and on the menu click on 'File' then 'Upload files'.
3. Use the 'Browse' button and then locate your Flash files on your hard disk (hold down your keyboard Ctrl key to select more than one at a time) and then click the 'Upload' button.
4. On the
RepeatServer.com
menu, click on 'File' then 'Documents and files' list.
5. Find the line in the grid for one of your Flash files that you just uploaded. (You may have to use the page buttons if you can't see your file on the first page).
6. Back to Repeat Signage. Go to the main screen and select the 'RepeatServer.com' tab. If you haven't already linked your Repeat Server account to Repeat Signage, then you will need to follow the instructions on screen. When this has been done, then please click on the 'Refresh' button to display all your Repeat Server files, which should include all the files you have uploaded. This needs to be visible before we can continue.
7. Create a Repeat Signage presentation on your computer or open an existing one. In the Repeat Signage designer, click on 'Insert' then 'Insert Flash video'.
8. Click the 'RepeatServer' option and a list of your files will be displayed, which will include any you have just added above. Now select your file by clicking on it, then click on the 'OK' button.
9. Click on 'OK' to insert the control. The next thing to do is to resize the control to an appropriate size.
10. Double click your new control to see it's properties. Click on the 'Refresh' tab. By default, new controls that are collected from a website location will automatically check for changes every 15 minutes. You can set this value appropriately. If you need the presentation to update itself almost as soon as you make a change online, then set this value to check every minute, or 15 seconds, etc.
To give this a test:
11. Edit the Flash file and make some changes (or overwrite it with a different Flash file).
12. Log onto your
RepeatServer.com
account and upload the new version which will overwrite the original.
13. Your presentation will update itself (even in the Repeat Signage designer) within 15 seconds.
You don't have to use
RepeatServer.com
as you could use your own website instead and use FTP software to upload and download files.
Converting PowerPoint presentations to Flash files

See Using
Microsoft PowerPoint presentations in Repeat Signage
.
Creating and editing Flash files
There are many software packages that allow create or edit Flash files. Do a Google search on 'Flash software'. Adobe, who created Flash (they bought out Macromedia who did) publish the professional tools for creating Flash files at
http://www.adobe.com/flashplatform/
, however the prices are high as you are looking at over £500+VAT and the training required to produce professional flash videos and animations is substantial.
There are a large number of websites that allow you to create and download Flash animations very quickly. For example, you can create text banners with some nice visual effects at sites like
http://www.flashvortex.com/
. A lot of the free sites allow download of flash, but they have their website address imprinted on. It allows you test the effect in Repeat Signage. For the purposes of drafting presentations, you can put other controls over the top of website addresses in these flash files in order to hide them. Try a Google search on 'free flash text' or 'free flash banners'.

Flash banner example
There are also a lot of Flash banner creation software packages such as
Aleo Flash Intro Banner Maker
. The nice thing about this package is that it you instantly get a preview when you change settings so that you can visually see a preview of the outputting banner (a banner is just a long Flash video usually for adverts on websites, but you can generate them to any size). Try a Google search on 'flash banner creator'.
Flash slideshows of images and image carousels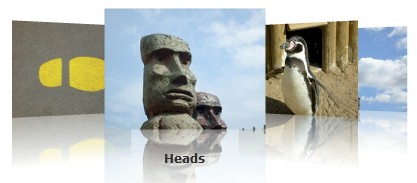 Flash image carousel example
Aleo 3D Flash Slideshow Creator
is creation software that allows you to create a number of slide show and carousel effects from your images. Try a Google search on 'free flash slideshow creator'.
Flash clocks and countdown timers


Flash clock example
Also take a look at our
Flash clock control
and we now have several Flash clocks included in Repeat Signage which support different time zones and colours.