Repeat Signage digital signage software
Celebrating 10 years since its launch, Repeat Signage has developed, adding many new features, and is in daily use across multiple applications and vertical markets with customers in over 30 countries across the world.

We work with value-added reseller partners in the UK, Ireland, Sweden, Malaysia, Philippines, Australia and the US, and welcome additional reseller partners, especially for vertical or niche markets such as education, healthcare, care homes, restaurants, hotels, individual shops, SMEs, etc. Reseller partners
For example, our Irish reseller, supplies and installs large format display screens, interactive screens and video walls across Ireland, specifically into the hotel, retail and corporate sectors. By offering Repeat Signage digital signage software as part of their portfolio, they can give their customers a digital signage solution for them to promote their own products, brand or services on display screens.

How to become a Repeat Signage reseller partner
You can become a Repeat Signage reseller if your business is in one of the following sectors:
–IT hardware or software sales
–IT consultancy
–Website design
–General and graphic design
Download a reseller brochure (PDF)
"Due to Repeat Signage software's easy user interface, staff required very little training and found that their current Microsoft Office skills were transferable to Repeat Signage." David Marsden, ICT Network Manager Westholme School, Lancashire.
Reasons we make it easy for you to work with us
We provide free online training videos, although Repeat Signage is so easy to use, you can create a presentation and have it playing in minutes.

You and your customers can set up a free account on our online server for remote updating of presentations, with access to a free RSS news creator and 3,000 images. The RepeatServer is accessible from within the software.

How to become a reseller for Repeat Signage digital signage software
Please email us: resellers@repeatsoftware.com and include details of your company and a link to your website.


"Repeat Signage software is Windows based so it's very easy to navigate and use. It's packed with features which you would only expect to find in bespoke systems. It represents very good value and gives terrific return on investment. Initially I was not particularly interested in reviewing or promoting another Digital Signage system as we had reviewed a large number and felt the systems we were supplying to clients met all their needs. However, once I met with their support team during ISE in Amsterdam, I realised this software system is perfect for clients who want an easy to use system with all the features but not the big price tag. The back up and support from the team at Repeat Software is second to none and I have no hesitation in recommending Repeat Signage". Odilon Hunt, AVA Systems, Ireland reseller partner specialising in supplying display screens to hotels and retail across Ireland.
Adding value to digital signage solutions
Even with the simplicity of Repeat Signage digital signage software, designing effective presentations is an art and not every customer has design skills nor the time to produce them. You can generate extra revenue by designing presentations for clients, supplying and/or installing hardware, and also giving training on the updating of presentations once created. You could also offer a monthly service where you update content for your clients. Graphic design companies may offer digital graphic designs for display screens.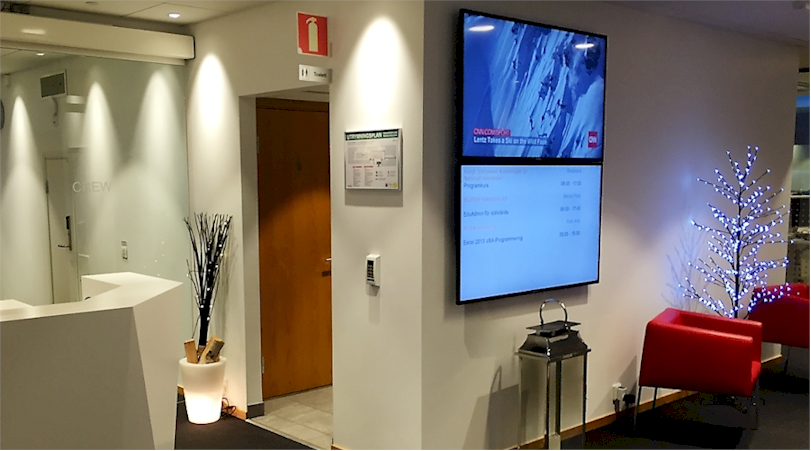 Swedish company MultiNet supply Repeat Signage digital signage software to their clients across Sweden.
Touch screen support has been added to Repeat Signage so there is also the opportunity of setting up information kiosks or touch screen information points. Rental of complete solutions and maintenance contracts could also be considered on a short and long term basis. Don't forget many companies are putting screens in busy areas like garden centers and generating an income by selling advertising to businesses.
Adding a new digital signage arm to your business is an excellent reason to contact existing customers that may be interested. We all know that it is easiest to supply existing customers, with whom you have an existing relationship.